Pierre Danoux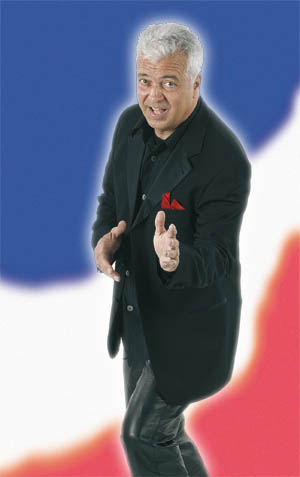 "La Voix"
– wie man Ihn in Europa, ja weltweit nennt - die Stimme, die jede Gala zum Erlebnis werden läßt. Pierre Danoux – der Entertainer und Sänger mit einer fantastischen Bandbreite präsentiert sich in einer internationalen Show der Weltklasse. Englische und amerikanische Welthits, mitreißende südamerikanische Welthits, mitreißende südamerikanische Evergreens, unvergeßliche Lieder der Karibik und natürlich- naturellement – seine Chansons. In der unvergleichlichen Art der Franzosen vermag er es, Stimmungen und Gefühle in Musik zu kleiden.
Pierre Danoux – das ist aber auch der Belcato-Sänger mit ausgebildeter Stimme, der Klassiker des Belcanto  auf zeitgemäßee Art interpretiert. Begleitet wird Pierre Danoux von dem international erfahrenen Orchestre Pierre Danoux und zwei faszinierenden Sängerinnen und – last not least- von bezaubernden Tänzerinnen aus den bekanntesten Revuetheatern der französischen Metropole.
Er wird von den Medien zu Recht gefeiert: sein unnachahmlicher Charme und seine hinreißende, kraftvolle Stimme,
die beim Publikum nie ihre Wirkung verfehlt, verleihen seiner Musik Leben und wecken die Sehnsüchte des Publikums.
Pierre Danoux wurde 1953 in Frankreich geboren und wurde in Deutschland bekannt durch unzählige Auftritte in Shows wie "Bonsoir Paris, Cabaret de Paris, Paris by night, Stars of Paradise und Dance of the world".
Seine internationale Klasse wurde hinreichend gewürdigt: Auftritte in weltberühmten Casinos wie Nizza, Monte Carlo, Deauville, Luxenburg und Wien-Baden und zahlreiche TV-Auftritte zeugen von der Extraklasse dieses Künstlers, der auch heute noch das französische Lebensgefühl transportiert, wie kaum ein anderer
Das Gala- und Konzertereignis Besetzung:
Orchester Sans Souci:
6 Musiker, 2 Chorsängerinnen und Pierre Danoux.
… oder kleine Besetzung oder sehr gute, notenfeste Band.

Pressestimmen
Nürnberger Zeitung
"… dem Beifall nach zu urteilen war neben dem Ballett wohl Pierre Danoux der Liebling des Publikums. Der Sänger präsentierte zusammen mit zwei faszinierenden Solisten des Original Broadway-Hair-Ensemble bekannte und beliebte Chansons und Evergreens…" Frankfurter Neue Presse "… Als ausgezeichneter Sänger erwies sich Pierre Danoux.Souverän bewegte er sich auf der Bühne zwischen den Tänzerinnen ohne jenes mitunter peinlichen gockel-und pfauenhaften Gehabes einiger bekannter Entertainer.Mit einer ganzen Reihe bekannter Lieder und Chansons unterhielt er sein Publikum auf ungemein angenehme Art…"
Hohenzollerische Zeitung "… daß sein Gesang nicht vom Band kam – lediglich die Musik war 'Konserve' – bewies der Künstler, als er direkt vor dem Publikum ohne Mikrofon sang. Spätestens da scheiden sich die Geister und es soll Interpreten geben, die derartiges Auftreten mehr fürchten, als der Teufel das Weihwasser. Nicht so Pierre Danoux, der bewies, daß er ein wirklicher Könner war…" Rhein Zeitung
"… sehr erfolgreich war mit bekannten französischen Chansons wie 'Parlez moi d'amour', 'Plaisir d'amour' , oder 'Oh Champs Elysee', dessen Refrain alle mitsangen, Pierre Danoux. Die Lieder von Liebe und Leid gingen ans Herz…" Westfalen Blatt"… der französische Showstar Pierre Danoux begeisterte mit seinen Chansons. 'Standing ovation' und ein nicht abreißender Applaus waren der Lohn und die Bestätigung zugleich für ein einzigartiges musikalisches Konzept …"

Frankenberger Zeitung
"… Pierre Danoux vereint Deutschland und Frankreich musikalisch. Herrausragendes Konzert, (…) starke Stimme, starke Band (…) mehere Zugaben…"