AURA
AURA - "Three Colours of Music"  Drei Stimmen, eine Familie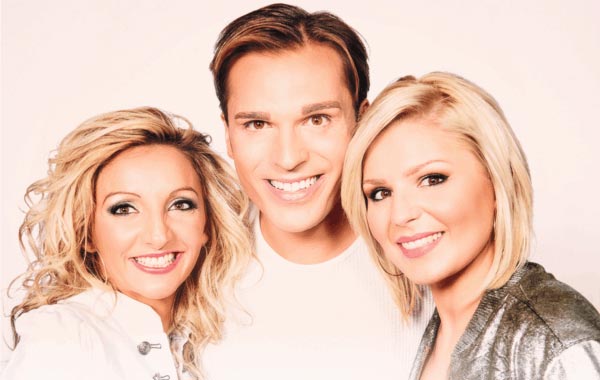 Nachdem das musikalische Trio aus dem grenznahen Forbach bereits seit Jahren auf dem französischen Markt erfolgreich ist, schickt Aura sich jetzt an, auch die deutschen Airplay- Charts zu erobern. Der Name ist dabei Programm, denn das Trio impliziert treffend damit seine künstlerische Ausstrahlung die den Genuss und die Faszination dreier schöner Stimmen immer wieder zum Erlebnis werden lassen.
Neben den deutschen Titeln wird Aura dazu auch mit Welthits und erfolgreichen Coverversionen auf den Bühnen glänzen. Hier reichen die unterschiedlichen Genres von Elvis Presley bis Abba, Queen, Josh Groban, Elton John und Leonhard Cohen. Von Tina Turner bis Whitney Housten, Adele, Celine Dion und Edith Piaf. Auch die unvergessenen Hits von Boney M fehlen nicht. Letztere sind auch ein gutes Omen für den Deutschlandstart von Aura: mit einem BoneyM - Medley fing 2004 bekanntlich alles an.
Besuchen Sie uns auf Facebook...
Homepage: https://aura-family.com/

AURA - Weihnachtskonzert
Teil 1
Hallelujah (Leonard Cohen)
Vielleicht (AURA)
Wer Hoffnung hat, hat alles (AURA)
My Girl (Temptations)
Harmonie (AURA)
Mit Leib und Seele (AURA)
Du (AURA)
It's a Heartache (Bonnie Tyler)
Lieber Gott, ich bitte Dich (AURA)
Leb mit mir Herz an Herz (AURA)
You raise me up (Josh Groban)
Wolken tragen (AURA)
The Rose (Bette Midler)
Teil 2
Ave Maria (J.S Bach)
Can you feel the love tonight/L'Amour brille sous les étoiles (König der Löwe)
White Christmas (The Drifters)
The first Noel (Traditional)
Les trois Cloches (Edith Piaf)
Silent Night/Stille Nacht/Douce Nuit (Traditional)
Adeste Fideles/Oh come, all ye faithful/Herbei, oh ihr gläubigen (Traditional)
Amazing Grace (Traditional)
Oh holy Night (Traditional)
Ewigkeit (AURA)
Feliz Navidad (Traditional)
Proud Mary (Tina Turner)
Glory Glory Hallelujah (Elvis Presley)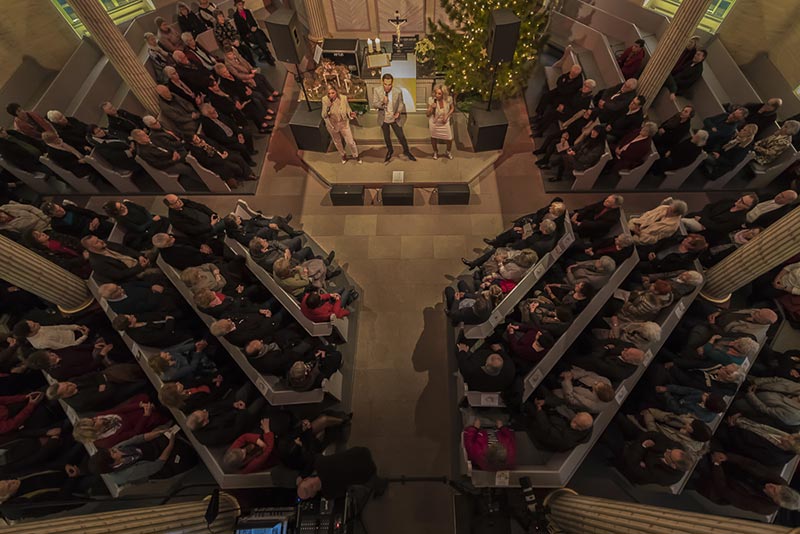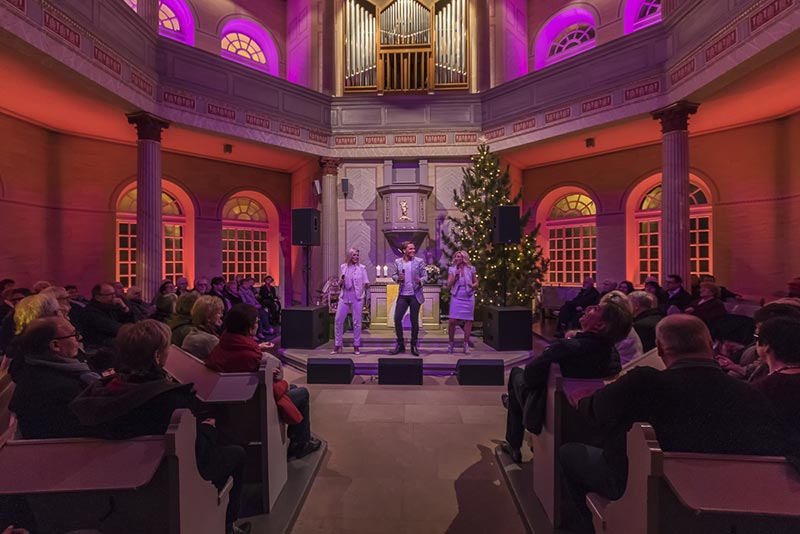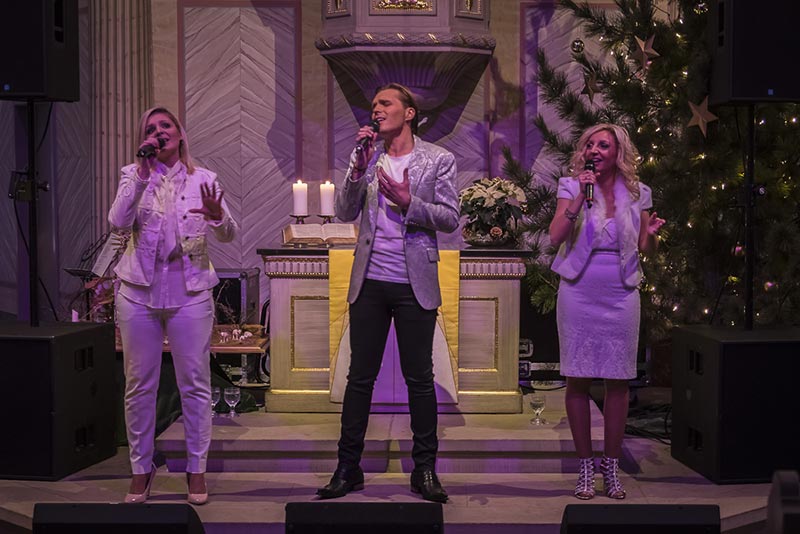 Fotos: Werner Johann

AURA
LIVEPROGRAMM
« Hallelujah » von Leonard Cohen
« You raise me up » von Josh Groban
« Can you feel the love tonight » von Elton John
« All of me » von John Legend
« Ain't no mountain high enough » von Marvin Gaye
« I think I wanna marry you » von Bruno Mars
« L'envie d'aimer » vom Music-Hall Les Dix Commandements
« American Trilogy » von Elvis Presley
« My Girl » von The Temptations
« Rolling in the deep » von Adele
« Allumer le feu » von Johnny Hallyday
« It's a heartache » von Bonnie Tyler
« Waterloo » von Abba
« River deep, mountain High » von Tina Turner
« Show must go on » von Queen
« Music » von John Miles
« Envole moi » von Jean-Jacques Goldman
« Proud Mary » von Ike & Tina Turner
und viel mehr...
Video/Filmproduktion M. Schorlepp - Sulzbach/Saar

Schon seit Jahren in Frankreichs Musikszene erfolgreich, haben Alexandre Gern, seine Schwester Cathy und seine Frau Laetizia eine ganz besondere Ausstrahlung. Der Band-Name AURA ist Programm. Schon mit ihrer Single "Wer Hoffnung hat, hat alles" konnten sie in Deutschland Fuß fassen. Nun steht ihr Debütalbum "Harmonie" in den Startlöchern, dessen Texte von Singer-Songwriterin Susan Ebrahimi stammen. Produzent und Komponist Willy Klüter hat sich mit Manfred Hochholzer dem Projekt AURA mit viel Liebe zu Details gewidmet.
"Harmonie" ist dabei viel mehr als die Summe seiner Teile. Der Hörer wird von einer außerordentlich dichten Atmosphäre und vom warmen, dreistimmigen Gesang vollends erfüllt. Jedes gesungene Wort, jede gesungene Silbe kosten die drei Stimmtalente vollends aus.Songs wie "mit Leib und Seele", die tiefgründige Ballade "Du" und das melancholische "Vielleicht" entführen Musikliebhaber jeglicher Couleur auf eine Reise durch beeindruckende Klanglandschaften.
Das Gesamtwerk wird streckenweise von einem sanften, gedämpften Pop-Beat, diversen Electronica-Akzenten, Singer-Songwriter-Charme und ganz großen Ohrwurm-Melodien durchzogen – doch auch opulent instrumentierte, regelrecht triumphale Momente, wie der Song "Ewigkeit", der auf Pachelbels Kanon in D-Dur basiert, gehören mit zum Erlebnis. Stücke wie "Ich liebe den Tag" und der Titelsong "Harmonie" zelebrieren die Güte und Ausgeglichenheit im Leben und bieten euphorische Refrains, die eine Gänsehaut erzeugen, die den ganzen Körper durchfährt.
Bei alledem haben die vielschichtigen Gesangsmelodien einen so eigenständigen Wiedererkennungswert, dass man von einem wahren Ausnahme-Werk sprechen kann, das man in der deutschen Musikwelt oftmals vergeblich sucht.
AURA setzen mit "Harmonie" ein Zeichen. Für mehr Wagnisse, mehr Substanz, Fülle und das kunstvolle Überschreiten von Grenzen. Selten schafft es eine Band schon mit ihrem Debütalbum, die Messlatte SO hoch zu setzen.
Text von Stephan Venker