Jive Talkin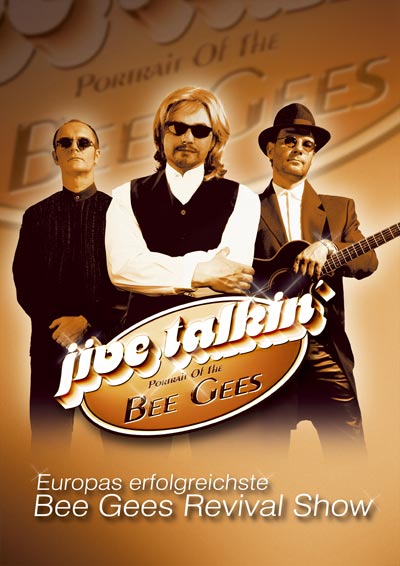 "Bee Gees"- steht für Brothers Gibb

Drei Brüder, die mit ihrem typischen Falsett-Gesang einen ganz erheblichen Beitrag zum Disco-Fieber in den Siebzigern leisteten und nach wie vor zu den Top Sellern im Musikgeschäft zählen.

"Jive Talkin'"performt im Outfit der Bee Gees und mit modernstem Digitalsound in 45 Minuten Showtime ein "Portrait Of The Bee Gees". Die perfekte Illusion des Originals. "Night Fever", "Stayin' Alive", "Massachusetts"- jeder kennt die großen Hits der Bee Gees.
Die Halb-Playback-Show kann variabel, unsere Empfehlung 35 bis 45 Minuten, mit maximal 60 Minuten Länge, aufgeführt werden. Der Programmteil benötigt eine dem Veranstaltungsort angemessene Licht- und Beschallungsanlage. Die Backline bringen wir mit.