Jennifer Rush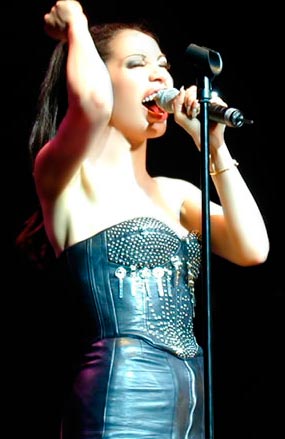 Zur Jahreswende 1984/85 kam die Ballade The Power of Love auf den Markt und bescherte ihr einen Nummer-1-Hit in Großbritannien, Südafrika und Australien sowie europaweite Spitzenplätze. Der Song war sparsam arrangiert und wurde ganz von der Kraft und dem Volumen von Jennifer Rushs Stimme getragen. The Power of Love stand über neun Monate in den britischen Charts und wurde in Großbritannien die meistverkaufte Single einer Solokünstlerin in der Geschichte der britischen Plattenindustrie, die Jennifer Rush Auszeichnung einer Diamant-Schallplatte und den Eintrag ins Guinness-Buch der Rekorde einbrachte. In Deutschland hielt sich die Single fast sieben Monate in den Charts, während sich in Spanien zeitgleich sowohl die englische als auch die spanische Version unter den Top-10 befanden.

Das erste Album Jennifer Rush fand sich kurz darauf auf Platz 2 der deutschen Charts wieder und wurde auch in Großbritannien ein Top-10-Erfolg. In Skandinavien belegte die LP ebenfalls Spitzenplätze und Rush wurde dort neben Deutschland und Südafrika sehr beliebt. In Deutschland blieb die LP zwei Jahre in den Charts, erreichte Doppel-Platin und entsandte mit dem Discosong Ring of Ice einen weiteren Nummer-1-Hit in Südafrika und kontinentalen Singleerfolg in Europa. In Großbritannien ließ ihr Erfolg nach, während sie in Resteuropa und Südafrika weiterhin Erfolg hatte

Im Herbst 1985 erschien der Top-Five-Hit Destiny. Es wurde das zweite Album Movin' angekündigt, das in Deutschland und Skandinavien auf Platz 1 der Charts einstieg. Es wurde mit Dreifach-Platin ausgezeichnet, in Deutschland das meistverkaufte Album des Jahres und enthielt mit der Ballade If You're ever Gonna Lose my Love einen weiteren Singlehit. In Südafrika war sie auch mit dem Song Madonna's Eyes erfolgreich. Im Erfolgssog von Movin' kletterte auch das erste Album Jennifer Rush wieder nach oben und im November 1985 waren beide LPs gleichzeitig unter den ersten drei Plätzen der deutschen Albumcharts. Bei den meisten ihrer Songs hatte Jennifer Rush sowohl an der Musik als auch an den Texten mitgearbeitet.

Im Herbst war sie auf ausverkaufter Deutschlandtournee, wo ihr das sehr seltene Platinticket für besonders viele verkaufte Konzertkarten verliehen wurde. Ende des Jahres wurde Jennifer Rush mit der Goldenen Europa in der Kategorie Pop ausgezeichnet.

Das Album Heart over Mind stieg im Frühjahr 1987 wie sein Vorgänger auf Platz 1 der deutschen Charts ein und hielt diese Position zwölf Wochen. Es wurde mit Doppel-Platin für über 1 Million verkaufte Exemplare ausgezeichnet und landete in Deutschland auf Rang 2 der meistverkauften Alben des Jahres. I

1999 ging sie wieder auf Deutschlandtournee, welche ausverkauft war. Jennifer Rush bekam im Laufe ihrer Karriere über 50 Goldene Schallplatten verliehen und vier Doppel-Platin-Alben.


Jennifer Rush heute

Nachdem sie einige Jahre in München und New York lebte, zog Jennifer Rush zusammen mit ihrer Tochter Ariel im Jahr 2006 nach London.

Am 31. August 2007 veröffentlichte die Plattenfirma SonyBMG die 3-CD-Collection Stronghold - The Collector's Hit Box, welche neben ihren großen 80er-Jahre-Hits auch einige Raritäten und Non-Album-Tracks enthält. Neben einem neuen Remix von I Come Undone sind auch erstmals zwei Songs aus ihrer Zeit als Heidi Stern auf der CD enthalten. Außerdem enthält die 3-CD-Box einige B-Seiten von Jennifer Rush-Singles der frühen 80er Jahre, welche bislang ebenfalls noch nie auf CD erschienen waren. Viele ihrer großen Hits werden in "Extended"-Maxi-Versionen vertreten sein. Ebenfalls ein Novum, da diese bisher nur sehr vereinzelt auf CDs erschienen sind.

Jennifer Rush hat für 2008 ihr musikalisches Comeback angekündigt und arbeitet in einem Londoner Studio an neuen Songs. Unter den bereits fertig gestellten (Demo-)Songs befindet sich erwartungsgemäß eine große Ballade, sowie ein Dancefloor-Track, der Jennifer nach eigener Aussage an Gloria Gaynor's "I Will Survive" erinnert, und mit dem sie ihre Fans überraschen möchte.