Paul Young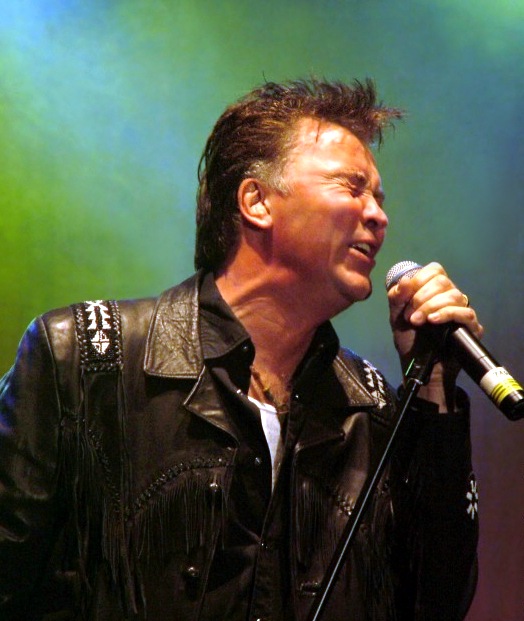 Sänger und Songschreiber Paul Anthony Young ist bereits als kleiner Junge musisch interessiert. Am 17. Januar 1956 im englischen Luton geboren, entdeckt er früh seine Liebe zur Musik und lernt Klavier und Gitarre zu spielen. Nach dem Ende seiner Schullaufbahn erlernt er zunächst einen "anständigen Beruf" und beginnt eine Ausbildung als Automechaniker bei Vauxhall Motors/Luton. Tagsüber arbeitet er mit seinem Vater im Autokonzern, abends tritt er in verschiedenen Clubs auf.

Erste Banderfahrungen sammelt Young als Bass-Gitarrist, strebt jedoch stets nach dem vorderen Platz auf der Bühne. Dies gelingt ihm auch, als er der Lokalband Kat Kool & The Kool Kats in den 70er Jahren als Sänger beitritt. Young interessiert sich in dieser frühen Phase sehr für Soulmusik, die allerdings nur wenig populär ist und von anderen Stilrichtungen zurückgedrängt wird. Im Jahr 1978 klettert die Streetband mit dem Song "Toast" bis auf Platz 18 der UK-Charts und landet somit einen ersten Top 40-Hit in Großbritannien.

Ein Jahr später löst sich die Gruppe jedoch bereits auf. Young ruft die Q-Tips ins Leben – eine Motown-Soul-Band. In der nächsten Zeit tourt der Sänger mit seinen Kollegen intensiv durch England und Europa und spielt ganze 700 Gigs innerhalb von drei Jahren. Trotz der vielen Auftritte bleiben die Q-Tips insgesamt gesehen relativ erfolglos, einzig ihre Single "Letter Song" erlangt auf dem europäischen Festland gewisse Bekanntheit – der große Durchbruch bleibt jedoch aus.

1982 gehen die Bandmitglieder ihre eigenen Wege, die Q-Tips liegen vorerst auf Eis. Der Weg ist somit frei für Youngs Solokarriere. Er unterschreibt bei CBS Records und veröffentlicht seine ersten beiden Singles "Iron Out The Rough Spots" und "Love Of The Common People". Auch diese bleiben erfolglos, doch der dritte Song – ein Cover des Marvin Gaye-Klassikers "Wherever I Lay My Hat (That's My Home)" – bringt im Jahr 1983 endlich den langersehnten Ruhm. Der Song hält sich drei Wochen an der Spitze der UK-Single-Charts und ist der erste von 14 Top 40-Hits des Solokünstlers Paul Young.

Auch in Europa erreicht der Musiker mit seinem White Soul-Stil ähnliche Erfolge. Die nächste Auskopplung "Come Back And Stay" chartet auch hierzulande in obersten Regionen. Beim dazugehörigen Videodreh lernt Young seine Frau, das Model Stacey Smith, kennen. "Love Of The Common People" wird erneut released und steigt diesmal sogar auf Platz 2 der UK-Charts. Das Debütalbum "No Parlez" klettert schließlich auf Position eins und erlangt in vielen Ländern, auch in Deutschland, Platinstatus. Im Zuge der ausgedehnten Tour verkauft Young mehrere Millionen Alben.

Der Sänger scheut auch vor gewagten Coverversionen nicht zurück und nimmt den Joy Division-Titel "Love Will Tear Us Apart" neu auf. Als er dies 1986 auch mit dem Cure-Song "Boys Don't Cry" vor hat, soll Komponist Robert Smith alles andere als erfreut gewesen sein und entschied vorsichtshalber, den eigenen Song in einer neuen Version selbst nochmal als Single raus zu hauen.

1984 erkrankt Paul Young an einer Infektion des Rachenraumes und leidet unter ernsthaften Stimmproblemen. Seine Stimmbänder sind derart angegriffen, dass er gezwungen ist, gesanglich kürzer zu treten. Dennoch performt er im gleichen Jahr auf der Band Aid-Single "Do They Know It's Christmas?". Letztlich ist Young sogar gezwungen, sich einer OP zu unterziehen, um die anhaltenden Stimmprobleme endgültig beseitigen zu lassen. In den nachfolgenden Jahren pausiert er gelegentlich, um seine Stimme zu schonen. Von dem operativen Eingriff genesen, bringt Young den Ann Peebles-Song "I'm Gonna Tear Your Playhouse Down" raus, mit dem er einen Top Ten-Hit in England landet.

1985 erscheint das zugehörige Album "The Secret of Association" – abermals eine Nummer 1 in England. Im gleichen Jahr koppelt der Soulsänger "Every Time You Go Away" aus, sein weltweit größter Karrierehit. Die Platte "Between Two Fires" kann an die Erfolge der Vorgänger jedoch nicht anknüpfen. In den nächsten Jahren wird es ruhig um den Musiker. Young will sich mehr seiner Familie widmen und muss erneute Stimmprobleme auskurieren. 1988 tritt er anlässlich Nelson Mandelas 70. Geburtstag im Londoner Wembley Stadion auf und performt die Durchhalte-Hymne "Don't Dream It's Over" von Crowded House. Zwei Jahre später wird Mandela endlich aus der Haft entlassen.

1990 veröffentlicht der Brite sein viertes Album "Other Voices", ein Jahr später erscheint die Best Of-Kollektion "From Time To Time". Hierauf ist mit "Senza Una Donna" auch ein Duett mit dem italienischen Popsänger Zucchero enthalten. Dadurch erreicht auch diese Platte Platz 1 der englischen und deutschen Charts. In den 90ern bringt Young zwei weitere Soloalben heraus, "The Crossing" (1993) und "Paul Young" (1997). 1993 reaktiviert er auch die Q-Tips, mit denen er einige Reunion-Gigs in England spielt.

Ein Jahr später veröffentlicht der Sänger mit der unverwechselbar weichen Falsettstimme die Soul Cover-CD "Reflections", diesmal auf Vision Music. Außerdem arbeitet er verstärkt mit anderen Künstlern zusammen. 1995 nimmt er mit Vangelis den Titel "Losing Sleep" für dessen Album "Voices" auf und gründet die Tex-Mex/Country-Rock-Band Los Pacaminos, mit denen er auch eine Platte einspielt. "Love Songs" ist 1996 noch einmal eine Art Paul Young Best Of-Platte.

Erst im Jahr 2006 kehrt der Solokünstler wieder zurück, mit überraschendem Sound. Der Longplayer "Rock Swings - On The Wild Side Of Swing" überrascht mit einer mutigen Songauswahl und eigenwilligen Swingkompositionen. Er covert den Soft Cell-Klassiker "Tainted Love", Metallicas "Enter Sandman" oder Eminems "Lose Yourself" und erweist Musikgrößen wie Elvis, Lou Reed und David Bowie seine Anerkennung. "Meine letzte Veröffentlichung als Solokünstler liegt schon eine Weile zurück. Und es ist sehr wichtig für mich, mit einem Album an die Öffentlichkeit zu treten, das anders ist", so Sänger Young.