Smokie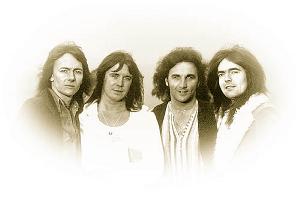 Die typische Stimme von CHRIS NORMAN und der perfekte Harmoniegesang von Pete Spencer (drums), 
Terry Uttley (bass) und Alan Silson (lead guitar) machten den Erfolg von SMOKIE in den 70ern aus. 
Zwischen 1975 und 1979 hatten sie unzählige Hits, allen voran natürlich "Living Next Door To Alice",
der die boys auch in den USA an die Spitze der Charts katapultierte.
Mit 15 verließ Chris Norman die Schule und gründete die Band "The Elisabethians" zusammen mit 
seinen Freunden Terry und Alan. Sie nannten sich dann für kurze Zeit "Kindness". 1973 traf 
Chris Norman den Musik-Manager Bill Hurley, der SMOKIE mit dem damals wohl berühmtesten 
englischen Songwriter und Produzenten-Duo NICKY CHINN und MIKE CHAPMAN (Sweet, Mud, Susi Quatro) 
zusammenbrachte.Der dann gewählte Name SMOKEY musste aufgrund einer Beschwerde von Smokey Robinson
in SMOKIE geändert werden – und das war die Geburtsstunde des Erfolges!
"Kaum ist die Band auf der Bühne erschienen, bricht das Publikum in ohrenbetäubenden Jubel aus", 
berichtet ein damaliger Kritiker von dem Konzert in Essen. "Chris tänzelt ganz nah an den Bühnenrand 
und fordert die Menge zum Mitsingen auf. Sofort gehört ein vieltausendköpfiges Publikum zum Smokie-Chor. 
Schlag auf Schlag spielt die Gruppe alle ihre Hits." Die Faszination ist auch jetzt nach 20 Jahren noch spürbar.
Neben dem Megaseller "Living Next Door To Alice", mit dem Smokie auch den Durchbruch in den USA schafften, 
sind Hits wie "I´ll Meet You At Midnight" oder "Oh Carol" in mitreißenden Live-Versionen zu hören.
Smokie schmachten nicht nur Balladen wie "Wild Wild Angels" oder "Baby It´s You" auf ihre unnachahmliche Art,
sie bringen auch mit Knallern wie "Going Tomorrow" der "The Girl Can´t Help It" das Publikum zum Toben. 
Für positive Vibrations sorgen Songs wie "It´s your Life" oder die rauhe Version des Sixtiesklassikers
"Needles & Pins".