Tony Christie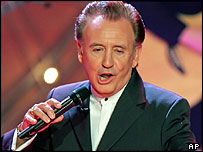 Er startete seine Karriere 1969 mit einem Plattenvertrag bei MCA Records. Seine größten Hits waren "Is this the way to Amarillo?" und "I Did What I Did For Maria" in den 1970er Jahren.Weitere Hits folgen wie LAS VEGAS oder YELLOW RIVER.#

 1999 hatte er ein Comeback in Großbritannien. Zusammen mit The All Seeing I entstand eine Neuaufnahme von Walk like a Panther, die die Top Ten der Singlecharts erreichte.

Im März 2005 feierte Christie dann seinen ersten Nummer-Eins-Hit in Großbritannien. 34 Jahre nach der Erstveröffentlichung wurde Is this the way to Amarillo? zur offiziellen Single der Benefizaktion Comic Relief bestimmt und stieg am 26. März 2005 auf Platz 1 der britischen Charts ein. Gleichzeitig erschien das Best-Of-Album "The Definitive Collection", das sieben Wochen auf Platz 1 der britischen Charts stand und mit Dreifach-Platin ausgezeichnet wurde.

2006 erschien ein Album namens Simply In Love. Ende 2008 folgt mit Made In Sheffield ein brandneues Studioalbum.