Sigi Oster - Elvis-Show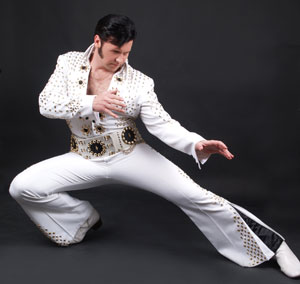 Für ihr großes Fest, die einmalige "King of Memphis" Show. Sie werden wieder in die 50er, 60er, 70er zurück versetzt und haben ein echtes Konzertgefühl, wenn King of Memphis vor ihnen steht, während er seine Elvis-Imitation präsentiert. Sie werden merken, dass Sigi seinen Job gerne macht. Er hat einen unglaublichen Spaß beim Singen und mit dem Publikum. Insbesondere auf Geburtstagen und Hochzeiten und allen geschlossenen Gesellschaften ist die Show ein ganz besonderer Genuß für die Gäste und auch für ihn, da sich dabei immer ein sehr persönliches und nettes Verhältnis zu den Gästen aufbaut. Aber auch auf Großveranstaltungen hat er schon mit Erfolg sein Programm präsentiert. Er liebt die Musik, insbesondere die Musik des "King", die er offensichtlich zu fühlen vermag. Deshalb sind seine Darbietungen immer aufs Neue ein Feuerwerk lebendiger Musik.
Sein Programm reicht für über drei Stunden, mit Halbplayback und für ca. 2 Stunden mit der Liveband .