Kontakt
Büro in Deutschland:
Agentur Stars & more • Roland Radmann
Raiffeisenstrasse 8 • 66802 Überherrn
Fon 06836 919445 • Fax 06836 919447
Mobil: 0172-8108998
Mail: Diese E-Mail-Adresse ist vor Spambots geschützt! Zur Anzeige muss JavaScript eingeschaltet sein!
Ust ID Nr.: DE 70 548 623 141
Steuernummer: 010/260/00897
---
Roland Radmann der Spezialist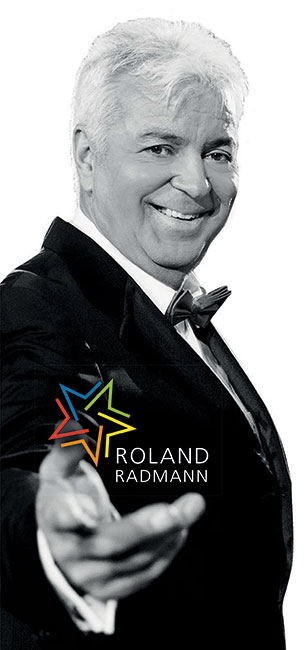 …der als Insider weiß, was wo wann und wie von wem gewünscht wird…der den europäischen Markt wie kein zweiter kennt…der in den letzten Jahren unbekannte Revuen großgemacht hat,…der die größten Revue-Tourneen in Europa organisiert hat, der von 1985 bis heute über 1000 Revuen in Deutschland,Österreich, Luxemburg, der Schweiz und Frankreich,Türkei,Japan, veranstaltet hat…..der Künstler ,Showideen und Showproduktionen für die bekanntesten TV Shows vermittelt hat, wie z.B. Rudi Carell Show, Wetten dass? Die Goldene 1, Zum Blauen Bock,
Die Zwei im zweiten, ZDF Fernsehgarten u.a. Produktionen von SAT 1, RTL, HR, MDR, SWF, SR…der mit Stadtverwaltungen, Kulturämter, Konzernen, internationalen Firmen,Verbänden, Kurverwaltungen,Vereinen, Sparkassen, mit den besten Häusern, den besten Hotels, ständig und beständig zusammenarbeitet…der Show hoffähig, zur Kultur gemacht hat,…der aber auch Kultur im herkömmlichen Sinne vermittelt, von Theater, Konzert, Operette, Oper, Kleinkunst, Kabarett,
bis hin zur Pop-und Rockkultur, von Kammermusik bis zum Open Air. Zufriedene Kunden, begeisterte Zuschauer danken es und empfehlen weiter: Roland Radmann, auch Ihr Partner in Sachen Kultur & Show.
JOACHIM SAUTTER
alias Jochen Sautter

Jochen ist gebürtiger Stuttgarter und hat seine Ausbildung in Tanz bei Jessica Iwanson in München erhalten. Während seiner Ausbildung konnte man ihn zwischen 1979 und 1981 bereits mit dem Deutschen Fernsehballett unter der Leitung von Heinz Kiesel sehen. 1982 geht er nach Paris und tanzt zunächst im Lido de Paris und später als Solist im Paradis Latin.
Zum 850sten Geburtstag der Stadt Berlin, gastiert er im Februar 1987 mit "Bonsoir Paris" als Solist im Friedrichstadtpalast in Berlin, damals noch "Ost". Von Neugier getrieben geht er im Frühjahr 1987 nach New York ,wo er ein Stipendium am Broadway Dance Center erhält und seine Gesangs- und Schauspielausbildung beginnt. Bald fängt er an auch in den USA zu arbeiten.
Er ist auf Tournee mit der englischen Pop Gruppe "Dead or Alive", dem Musical "Funny Girl", wird Solist auf verschiedenen Kreuzfahrtschiffen der RCCL und landet schliesslich eine Hauptrolle in dem Musical "This is America, the New World", mit dem er unter anderem das Shrine Auditorium in Los Angeles, das State Theatre in Chicago und das Beacon Theater in New York spielt. 1990 kehrt er nach Europa zurück.

Man wird ihn in den Revuen "Bonsoir Paris in Deauville" , "Stars of Paradise" in Deutschland, "Passion" im Lido Theater Amsterdam und "Il Était une Fois l''Opérette" in verschieden Theatern in Paris und überall in Frankreich sehen können.

Er spielt ebenfalls in den Musicals "West Side Story "in Paris, "Singing in the Rain" in Lüttich und Brüssel, "Il Était une Fois, Bobino" in Paris, "Victor, Victoria" in München,"Les Demoiselles de Rochefort" in Paris mit und war 2001,2005 und 2007 mit der "Broadway Musical Company" in Japan auf Tournee.

In der Saison 2007/08 ist er als "Raoul" mit "Das Phantom der Oper" an der Seite von Debborah Sasson in der Rolle der "Christine" im deutschsprachigen Raum auf Tournee. Für diese Produktion entwirft er auch die Choreographie.

Von 1998 bis 2003 entwickelt er die Showeinlagen für Events des amerikanischen Kosmetik Konzerns Mary Kay in Wiesbaden, Madrid und München.

Seit 1998 unterrichtet er regelmäsig das Fach: "Tanz im Musical" in Workshops in Poznan, Kielce, Watschau und Lodz in Polen, in Nantes (Frankreich) und in Kansas City (USA).

2000 und 2001 führt er durch das Programm der Tanzshow "Dance of the World" auf Tournee in Deutschland. Damit beginnt ein neues Kapitel in seinem Leben: Man engagiert ihn immer öfter als Moderator von Revuen und Events. Seither hat er u.a. für Disneyland Paris, Britisch Telecom, Air France, Avid und Daimler-Chrysler in Paris, für Bürstner in Pforzheim, für Cartier in Shanghai und für das Aussenhandelsvertretung Frankreichs in Irland moderiert.

Seit Juni 2004 arbeitet er mit Jazzkomponist Victor Prescott an einem Musical Film "Transatlantica", in dem er die Rolle des Roscoe spielt.

Er arbeitet mit bei der künstlerischen Konzeption von Shows und Events für die Company HIGH RISK, Paris, bei denen er auch für die Promotion mit Schwerpunkt Golfregion (Dubai) verantwortlich ist.

Seit 2005 unterhält Jochen Sautter das pariser Büro der deutschen Künstleragentur STARSANDMORE.