Suzi Quatro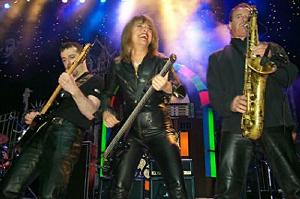 Suzi Quatro, am 3. Juni 1950 in Detroit geboren, reüssierte 1973/74 vornehmlich in England 
als weibliche Elvis Presley-Kopie in schwarzem Leder. In den beiden Jahren kam das nur 
1,50 Meter große Teenager-Idol mit den Singles Can The Can, 48 Crash, Daytona Demon, 
Devil Gate Drive, All Shook Up, The Wild One sowie zwei LPs unter die britischen Top Ten.
Siebenjährig zum Bongospielen in der Jazzcombo ihres Vaters Art Quatro angehalten, 
machte sie mit fünfzehn zusammen mit ihren Schwestern Patti, Nancy, Arlene, mittlerweile 
an der Baßgitarre, eine eigene Band auf: Suzi Soul and the Pleasure Seekers. 
Wenig Vergnügen (pleasure), aber viel Training erfuhr der Teenybopper sodann beim 
Tingeln in Striptease-Kneipen und mit der Girltruppe Cradle bei der Truppenbetreuung 
in Vietnam. Das Erfolgskostüm verpaßten ihr schließlich der Londoner
Manager/Producer Mickie Most sowie das Autoren-Produzenten-Team Mike Chapman und Nicky Chinn.