Boney M feat Liz Mitchel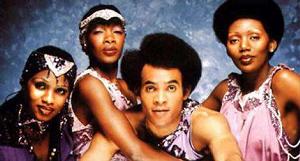 Ihre Longplayer heißen "Nightflight To Venus" oder "Oceans Of Fantasy"  und es gibt kaum eine Plattensammlung in der sie fehlen. Üppig mit Perlen besetzte Kopfbedeckungen und in grellenFarben leuchtende Kostüme verraten Boney M. schnell als Kinder des 70er Jahre Disco Fiebers.
"Daddy Cool" oder "Brown Girl In The Ring" bringen einerseits den seit Elvis in  Vergessenheitgeratenen Kampfruf "Swing Your Hips" wieder in Mode, und erweisen sich andererseits als wahre Verkaufsschlager in den Plattengeschäften. In Europa werden Boney M. zu einem der kommerziell erfolgreichsten Acts der Musikgeschichte.