Joe Wulf and the Gentlemen of Swing
Joe Wulf ist einer der weltbesten Posaunisten, er textet, singt, komponiert und arrangiert und gehört mit seiner Weltklasse-Formation zu den angesagtesten Jazz- und Swing-Bands Europas.
Die Gentlemen of Swing sind allesamt hochkarätige Solisten der internationalen Jazz-Szene und in dieser einzigartigen Formation als Band verblüffend homogen. Sie bestechen durch exzellente Musikalität, Charme und mitreißende Spielfreude mit ihrem kraftvollen und zugleich samtweichen Sound.
Duette mit Joe Wulf und Terrence Ngassa erinnern an die Sternstunden des Jazz und ihren Altmeister Louis Armstrong. Alle jungen Musiker sind ehemalige Studenten, die Joe Wulf an der Kölner Musikhochschule unterrichtete und gefördert hat.
"Joe Wulf and the Gentlemen of Swing"
Besetzung Trompete, Posaune/Gesang, Klarinette, Saxophon, Banjo/Gitarre, Bass und Schlagzeug.
Traditionelle Titel wie Basin Street Blues, When The Saints Go Marching In, Way Down Yonder In New Orleans sind fester Bestandteil des Programms genau wie aktuelle Songs im Joe Wulf-Sound All About That Jazz, Happy, ...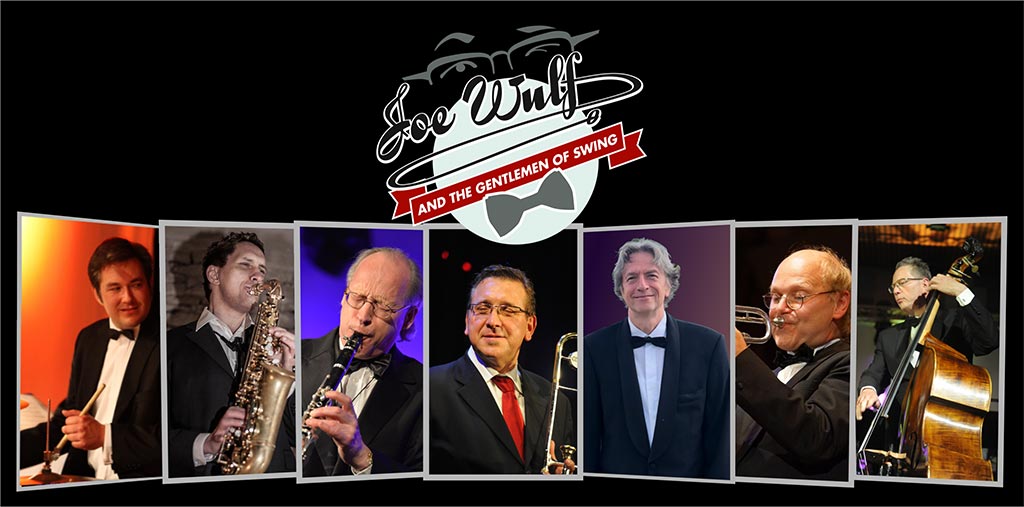 "Joe Wulf's Wonderful World of Christmas"
Besetzung Trompete, Posaune, Klarinette, Saxophon, Banjo/Gitarre, Bass, Schlagzeug und
Gaststar Angela van Rijthoven, Gesang.
Joe Wulf and the Gentlemen of Swing spielen für Sie zur Weihnachtszeit die schönsten Swingtitel, American Standards und deutschen Weihnachtlieder. Erleben Sie die großen Hits wie "I'm Dreaming Of A White Christmas" oder "Let It Snow, Let It Snow" im typischen Joe Wulf-Sound. Schwelgen Sie in Erinnerungen an Musiker wie Bing Crosby, Frank Sinatra oder Ella Fitzgerald, Louis Armstrong und Nat King Cole. Die acht hochkarätigen Jazzmusiker begeistern das Publikum mit sensiblen Interpretationen der beliebtesten Weihnachtssongs und mit ihrem einzigartig swingenden Sound. Ein stimmungsvolles Live-Erlebnis zur festlichen Weihnachtszeit.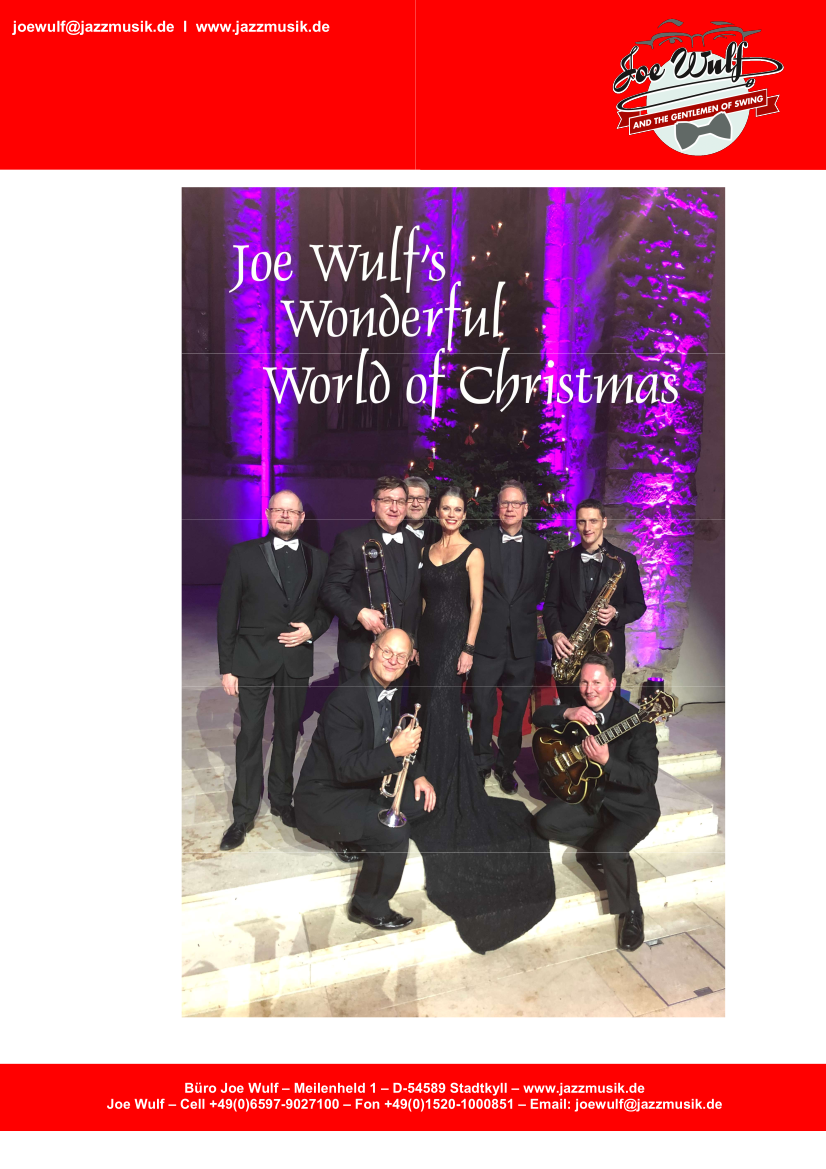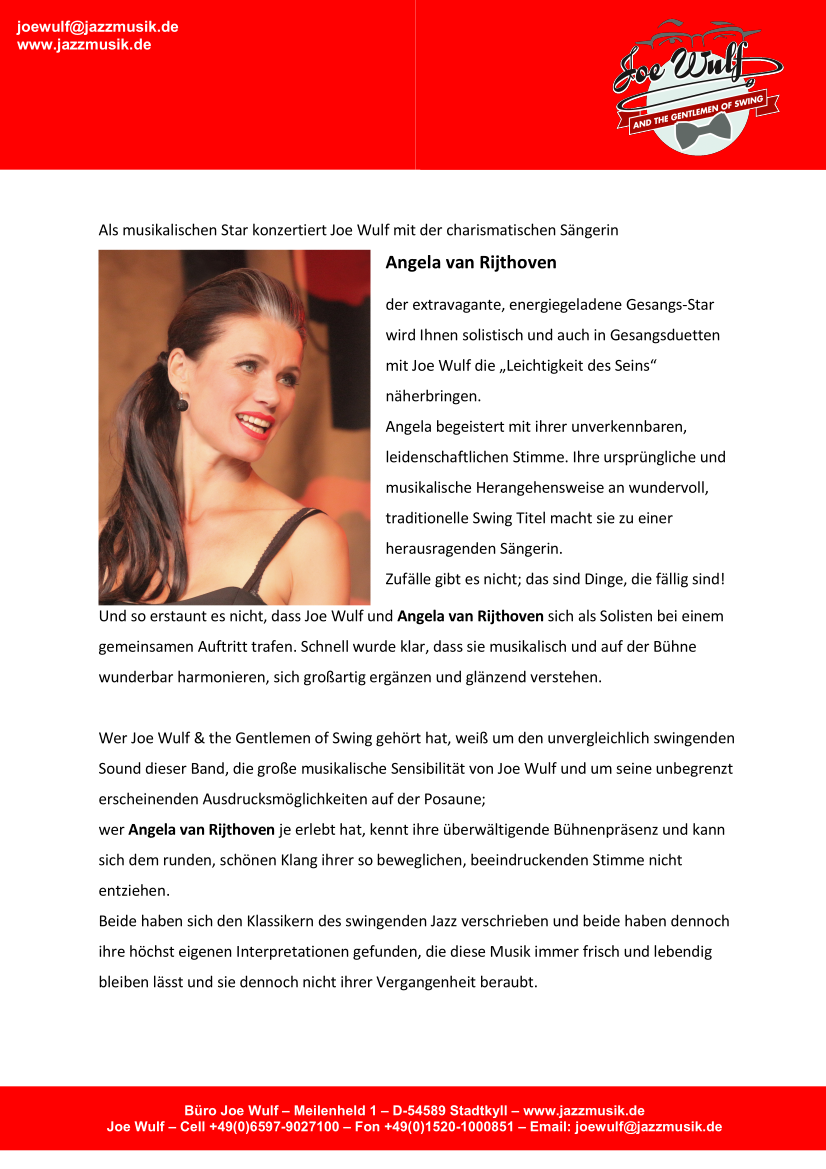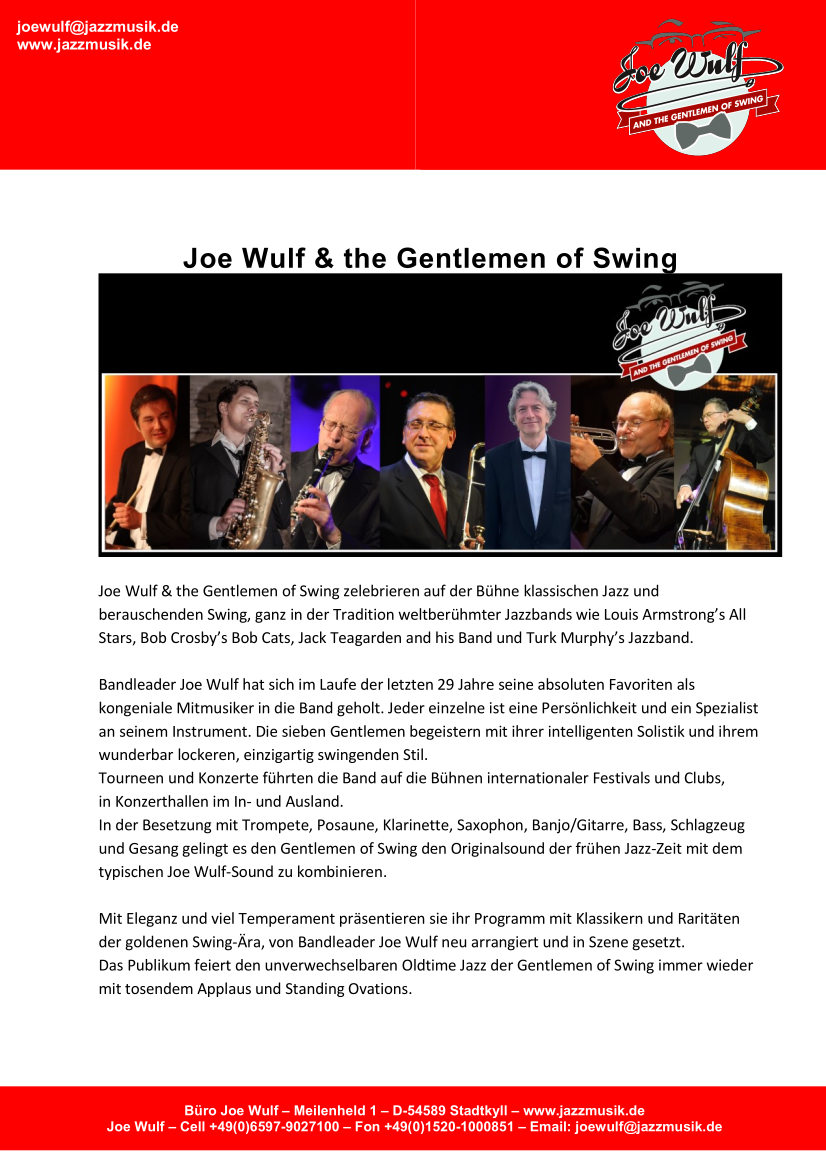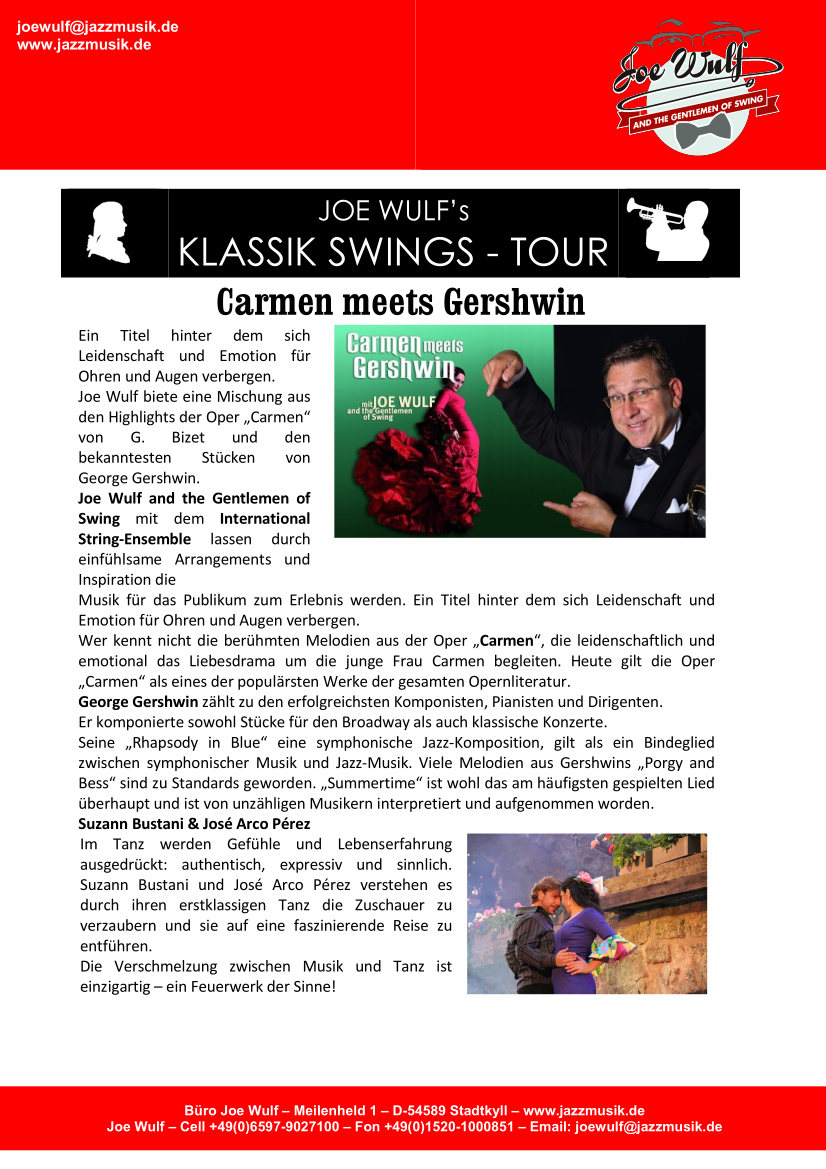 Joe Wulf and the Gentlemen of Swing

Battle Hymn Of The Republic
https://www.youtube.com/watch?v=ZdGZNTFKCAI

Transy
https://www.youtube.com/watch?v=zlYT88INGaY

At A Georgia Camp Meeting
https://www.youtube.com/watch?v=ps_Fv1k1hCg

Rose of Washington Square (feat. Angela van Rijthoven, voc)
https://www.youtube.com/watch?v=EE33pikJGA4

Joshua Fit The Battle Of Jericho (feat. Angela van Rijthoven, voc)
https://www.youtube.com/watch?v=H10lQW3DE-Q


Joe Wulf's Wonderful World of Christmas

Impressionen: Joe Wulf's Wonderful World of Christmas
https://www.youtube.com/watch?v=o92p0CEbpjY

Süßer die Glocken nie klingen
https://www.youtube.com/watch?v=AHwPjZ61ewA

Santa Claus Is Coming To Town (Visualizer)
https://www.youtube.com/watch?v=7dmcn80Oh_o&list=PLKFi-3TxFoAAO_7e4oFnHjj2lTop0TLFv&index=3

Frosty the Snowman
https://www.youtube.com/watch?v=hsTFgRoVGrY

White Christmas (Visualizer)
https://www.youtube.com/watch?v=ylHPnEgMZmc&list=PLKFi-3TxFoAAO_7e4oFnHjj2lTop0TLFv&index=14

Baby, It's Cold Outside (Visualizer)
https://www.youtube.com/watch?v=2F8ibPVhnyw&list=PLKFi-3TxFoAAO_7e4oFnHjj2lTop0TLFv&index=8