We sing Halleluja
Natascha & Alfred McCrary & Chor
Wir nehmen Sie mit auf eine musikalische Gospel Reise.
Was ist Gospel?
Gospel heißt nichts mehr als Good News!!!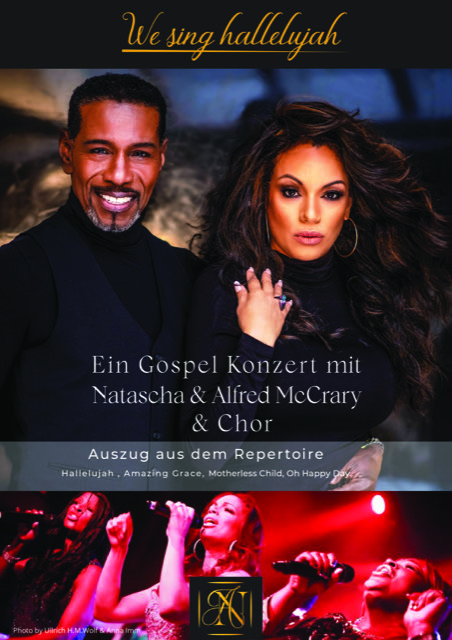 Die Gospel Musik ist während der Sklaverei im letzten Jahrhundert entstanden. Mit Songs wie "Down by the riverside", "Amazing Grace", "This little light of mine" & "Oh Happy Day" haben Sklaven Hoffnung und Kraft gesucht und gefunden.
Noch heute bringt Gospel ein gutes Gefühl auf die Bühne und weltberühmte Songs sind immernoch mitreißend und spiegeln ein Gefühl von "Happiness" wieder.
Erleben Sie Gospel vom Feinsten in einer modernen mitreißenden Show mit den größten Gospel Hits Songs. Mit Gospel Produzent Alfred McCrary, welcher aus der bekannten Gospel Familie "The McCrary´s" stammt zusammen mit Natascha Wright" (ex La Bouche) & Chor.
Auszug aus dem Repertoire:
Oh Happy Day
Amazing Grace
Down by the riverside
Hallelujah
This little light of mine
6 Personen on Stage