The Frank, Sammy & Dean-Show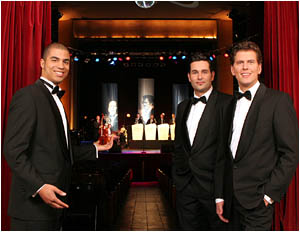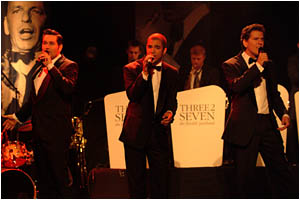 The "FRANK, SAMMY & DEAN"-Show
mit der "THREE2SEVEN" Jazzband

Sie galten schon zu Lebzeiten als die größten Entertainer der Welt. Frank Sinatra, Sammy Davis Jr. und Dean Martin traten zu Beginn der 6o-er Jahre im Sands Casino in Las Vegas auf und Ihre gemeinsamen Shows als "Rat Pack" gelten noch heute als legendär.

Jetzt bringt die "THREE2SEVEN" Jazzband zusammen mit den drei Sängern Sascha Poddey (Frank), Marvin Becker (Sammy), Frank Scheele (Dean) sowie zwei attraktiven Tänzerinnen den Charme, den Witz und natürlich die swingende Musik der drei Legenden zurück auf die Bühne.

Als "FRANK, SAMMY & DEAN" begeistern sie mit Welt-Hits wie "Everybody loves somebody", "The Lady is a Tramp", "Mr. Bojangles", "Mack the Knife", "Fly me to the Moon", "New York, New York" und natürlich "My Way".

Dabei überraschen die insgesamt nur 7 Musiker der Band mit ihren beeindruckenden und einzigartigen Arrangements dieser großen Hits: Mit Recht kann sich die "THREE2SEVEN" Jazzband nun wohl "die wahrscheinlich kleinste Big Band" der Welt nennen.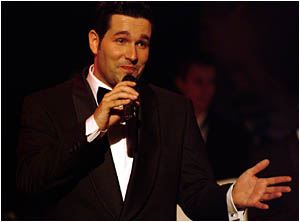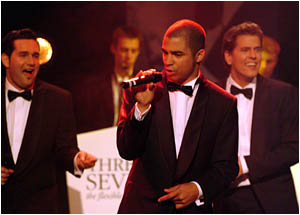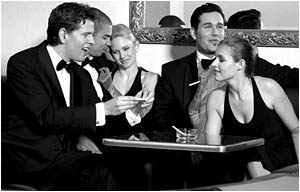 Leistungen

"THREE2SEVEN" Jazzband (einsetzbar zur musikalischen Untermalung vor oder nach der Show) inkl. der 3 Sänger "Frank Sammy & Dean", 7 Musiker, 2 Tänzerinnen und 3 Techniker:

Showdauer: bis zu ca. 75 Min. Show mit zusätzlich 2 x 45 Minuten Jazzmusik
Gage: auf Anfrage

Stimmen zur Show:

"Wir sind begeistert und haben die tolle Musik, die charmant-witzige Show und die Stimmen von Frank, Sammy & Dean sehr genossen!"

"Es hat einfach ein Spaß gemacht, Euch auf der Bühne zu sehen und erst recht zu hören."

"Ich fand es gut, dass ihr das Original nicht einfach kopiert hat - sondern dem ganzen Projekt euren persönlichen Stempel aufgedrückt habt. Genau das macht es so groß- und einzigartig!"

"Sie waren richtig klasse und wir hatten viel Spaß mit Frank, Sammy und Dean...!"

"Das war eine super Show!"